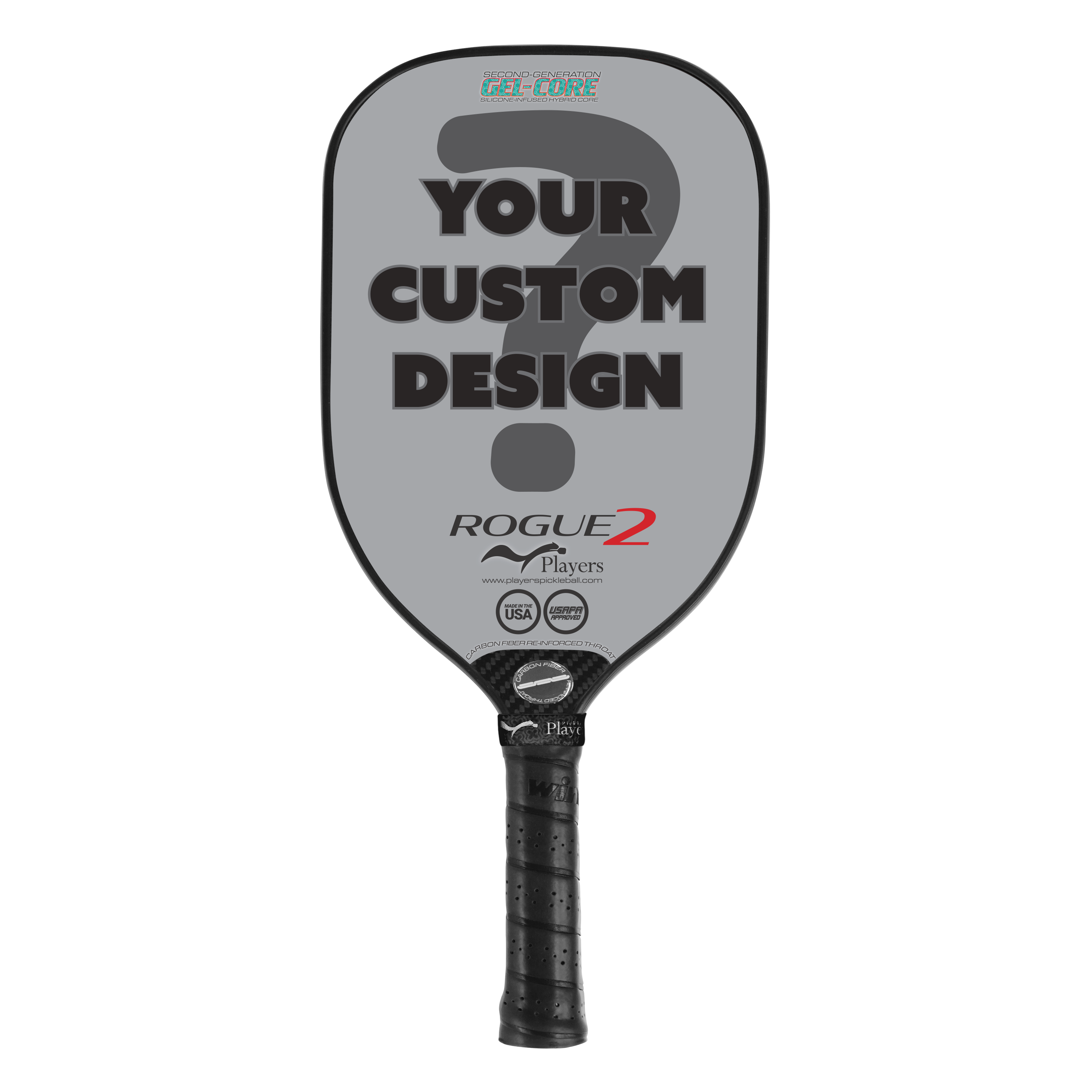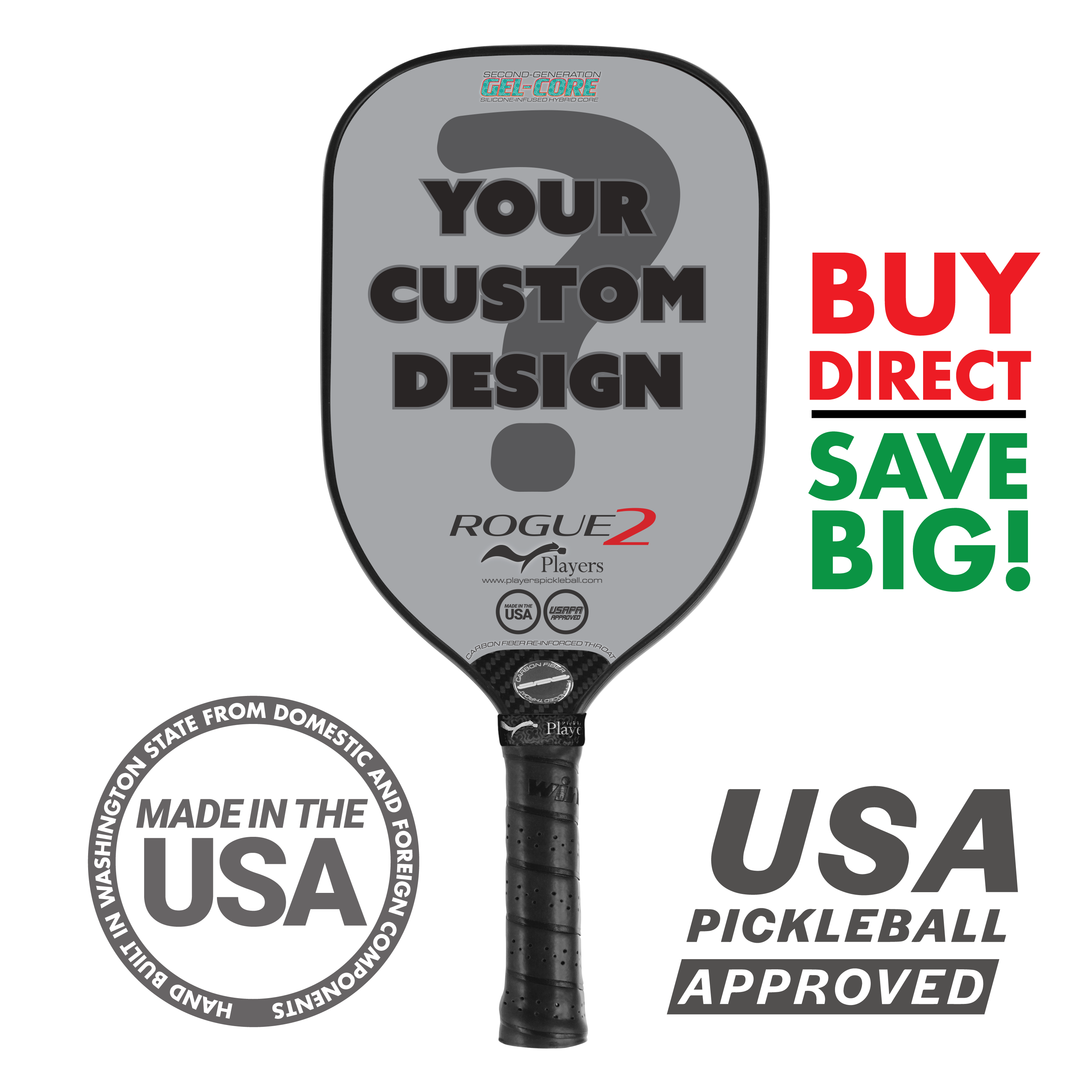 Rogue2 Gel-Core with Your Custom Design
Pickup currently unavailable at Ferndale (1901 Baltic Way #108)
Rogue2 Gel-Core with Your Custom Design
1
Ferndale (1901 Baltic Way #108)
Pickup currently unavailable
1901 Baltic Way
#108
Ferndale WA 98248
United States
Rogue2 Custom Design!
Have you dreamed of having your own design on your favorite pickleball paddle? With Players Pickleball, you can do that!
Customize Your Design
Create your own custom design with us! Ideal for clubs, companies, tournaments, special events, family reunions, and more! Based on the USAPA-approved Rogue2, your paddle(s) will be custom-made with your own design! Supply your own design, or work with us to create one for you.
How it Works 
Simply select the quantity of paddles you'd like to order and complete your purchase. We'll contact you within 24 hours of your order to discuss your design and specifications. Because we print all custom paddles in batches to reduce the cost to you, it will take 1-4 weeks for production, and your paddles will be shipped directly from us to you.
IMPORTANT!
Trademarked Images:

 

We cannot produce paddles that use trademarked, copyrighted, or otherwise owned images without written consent from the owner. This includes company and team logos, celebrity images, copyrighted slogans, etc.
Design Work:

 

If your custom design is not already prepared and requires us to create artwork for you, we may need to charge an additional design fee.
Overview

The breakout hit Rogue is back! The all new Rogue2 paddle takes the already great Rogue and adds a new shape, improved 2nd Generation Gel-Core technology, vibration-damping carbon fiber throat reinforcement, and massively increased durability, all while keeping the cost well below the competition!
The Second Generation Gel-Core improves the paddle in several measurable ways:

Larger Sweet Spot
Greater Paddle Stability on Ball Impact
Reduced Vibrations Transmitted to the Player's Hand
Softer Ball Impact Sound
Improved Durability over First Generation
We took the blueprint for the first generation Gel-Core, which was already a proven performer, and refined it further, giving it much increased durability along with improved vibration absorbing characteristics. If you aren't already familiar with the Gel-Core advantage, read all about Gel-Core, its benefits, and the test results.



Sweet Spot Mapping
At Players Pickleball, we believe that without hard evidence to back up a claim, that claim has little value. We use a bespoke testing fixture to measure the sweet spot in a way never before seen in the sport. Rather than relying on subjective test feedback, we can objectively measure the ball response at controlled locations across the paddle face. Below are the results of the Rogue2 Gel-Core sweet spot mapping tests.
Exclusive Vibration-Damping Carbon Fiber Throat Reinforcement
Unique to Players Pickleball paddles is the Rogue2's vibration damping carbon fiber throat reinforcement. This cutting edge innovation accomplishes two major performance improving enhancements:
Strengthening of the critical paddle face/handle junction - This is an inherent weak spot in almost all paddle designs as the thin handle portion of the paddle must manage all of the stress of countless ball impacts while remaining lightweight and small enough to accommodate the hands of all players, big and small. The addition of 6 total layers of carbon fiber at this critical junction on each side adds overall rigidity to the paddle while virtually eliminating handle breakages!
Vibration damping - The carbon fiber reinforcement is designed with a unique rubber-like material that is fused into the composite during layup. This material drastically improves the normally high frequency characteristics of carbon fiber and transforms it into a vibration absorbing component, isolating your hand from the impact of the ball on the paddle face. The graph below shows the drastic reduction in vibration by the Rogue2's unique throat reinforcement.

TMD - Targeted Mass Distribution
The Rogue line of paddles features "Targeted Mass Distribution". This means we can control where the paddle's mass is concentrated by moving it toward the edges of the paddle. We accomplish this through the locations of our Gel-Core infusion.


USA Pickleball Approved
This paddle passes the USA Pickleball specification tests and is approved for use in USA Pickleball sanctioned play.
Technical Specs
Weight:

7.8oz

 (

±0.2

oz) 

Overall Length
16-3/8"
Overall Width
7-3/8"
Grip Circumference
4-3/16"
Grip Length
5"
Core Thickness

1/2" (nominal)

Honeycomb Material
2nd Generation Gel-Core, Silicon-Infused Polypropylene
Paddle Skin
2-Layer Unidirectional Fiberglass
Country of Origin

Made in the USA

Certifications

USAPA Approved

Return Policy
30-Day Return Policy
If you're completely unsatisfied with your paddle within the first 30 days, you can return it. Read the complete details.